TYPICAL
CLUB FITTING RESULTS
Improvement in Distance
%
of customers
Improvement in Accuracy
%
of customers
Imrovement in Scoring
%
of customers
So what is a club fitting and what do I need to do? The first step is making an appointment and making sure to bring your current clubs.  Our Fitting Professionals will ask you questions about your current skill level, look at your present golf clubs and have you hit some golf balls. We'll use a launch monitor to record the ball flight information showing swing speed, launch angle, spin rate of the golf ball and flight direction of your shots.
Typically after hitting 6 to 12 shots with both wood and irons, we will have enough information to start putting different clubs in your hand.  We use the information from the swing monitor and determine length, lie angle, grip size, shaft flex and weight.
We have an assortment of shafts for ladies, men and seniors that allow us to make well over 100 different possible options.
It is not uncommon to see your ball flight change immediately and bringing with it a big smile. The technology today allows the player to change a slice into a fade or straight ball, a low ball flight into a higher ball flight as well increasing distance!
Brian Cipperley
CLUB FITTER:
Brian has been around the game of golf since his early twenties.  He first caught the bug while working for the grounds crew at his local golf course in Omaha, NE.  After that, he worked for Taylormade Golf as a demo rep and as a club fitter for Austad's golf.   After college he went to become a healthcare executive and spent the last 10 years in San Diego and Los Angeles.  Up to this point, Brian has played most of his golf in Southern California.  While in California, Brian was fortunate to take lessons from the legendary Jim Flick and was a regular at the Scotty Cameron Gallery in Encinitas.
If you are looking for club repair or just a quick regrip, we are your spot!  We provide extremely fast service as clubs are usually ready the same day or next day! If you have an issue with your equipment, please let us know. We will do everything we can to make it right!
Questions? Give us a call at 210-349-5113, we would be happy to help!
RESHAFT OR INSTALL IRONS & WEDGES
RESHAFT OR INSTALL DRIVERS, WOODS, & HYBRIDS
APPLY TIP/ADAPTER FOR SHAFTS
REGRIPPING FOR ALL CLUBS
SHORTEN CLUB AND REGRIP
LENGTHEN CLUB AND REGRIP
CHANGE SWINGWEIGHT
BEND LOFT AND LIE
RESET OR REMOVE HEAD/SHAFT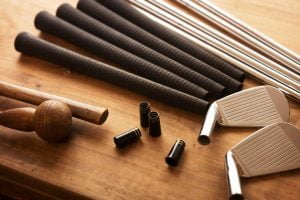 We have seven other amazing golf facilities in San Antonio! Play the Trail